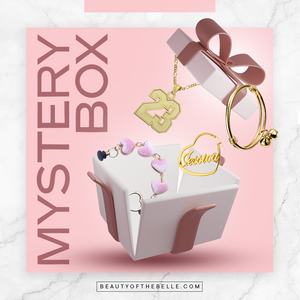 Mystery Box
Regular price
$19.00
Sale price
$100.00
We've got tons of new jewelry styles + some of our best selling goodies for you! Our Jewelry Box comes with 4 mystery jewelry and accessory items that are new or are from our best sellers collection. Each boxes retail value is a minimum of $100! You tell us if the box is for an adult or child , the gender , the name of the person the box is for and we'll do the rest! We guarantee this is a mystery you don't want to miss!
Limited stock, grab yours while you can and get ready for the best surprise to come to your door!
Instructions: 
> Enter Name > Select gender > Then select the size you need and we'll get to work.
________________________________________________________________
The Jewelry Box FAQs:
What is a Mystery Jewelry Box?
A 'Jewelry Box' is a crazy good deal on 4 mystery jewelry or accessory items! Select your gender + size and score never released items, sold-out items, best sellers and more! The majority of items included will be brand new and never before released, which may include rings, necklaces, bracelets are more! 
Is there a limit to how many I can order?
There is no limit! You can order as many as you would like, while supplies last by gender and size.
Will custom items be included?
Some boxes will include customized items. Please note: receiving customized items is

not

guaranteed. 
Can I select a gender for my box?
Yes! You may select boy, girl or unisex. If you feel there was a mistake made in the slated gender for an item, please email info@beautyofthebelle.com. We cannot guarantee that we will be able to accommodate a request for an exchange but we are happy to review.
What are the chances of getting duplicate items if I order more than one of the same size?
We have tons of styles to offer! Our fulfillment center will do their very best to ensure duplicates are not sent when multiples of the same gender and size are ordered. For instance, if  3 quantities of 'boy' boxes are ordered, they will strive to not have duplicates. However, we cannot guarantee that no duplicates will be sent.
We cannot take any requests for an order to either include matching items (same or different sizes) or ensure no duplicates if different sizes are ordered.
Can I combine shipping?
Our fulfillment center is unable to combine or split shipping on any orders. Each order is unique and cannot be combined or split for any reason.
What is the policy on returns and exchanges?
All sales are FINAL on jewelry boxes. No returns or exchanges will be accepted.
What if I receive a defective item in my box?
In the rare instance that a defective item goes out, we are happy to offer a full refund with the return of the defective item. Please email our customer service team at info@beautyofthebelle.com, and they will be happy to review it.
Why has someone ordered after I did receive a shipping notification before me?
We have several shipping specialists working on pulling orders, which may account for some orders being fulfilled before others.
---
Share this Product
---
More from this collection